Monthly Archives:
January 2021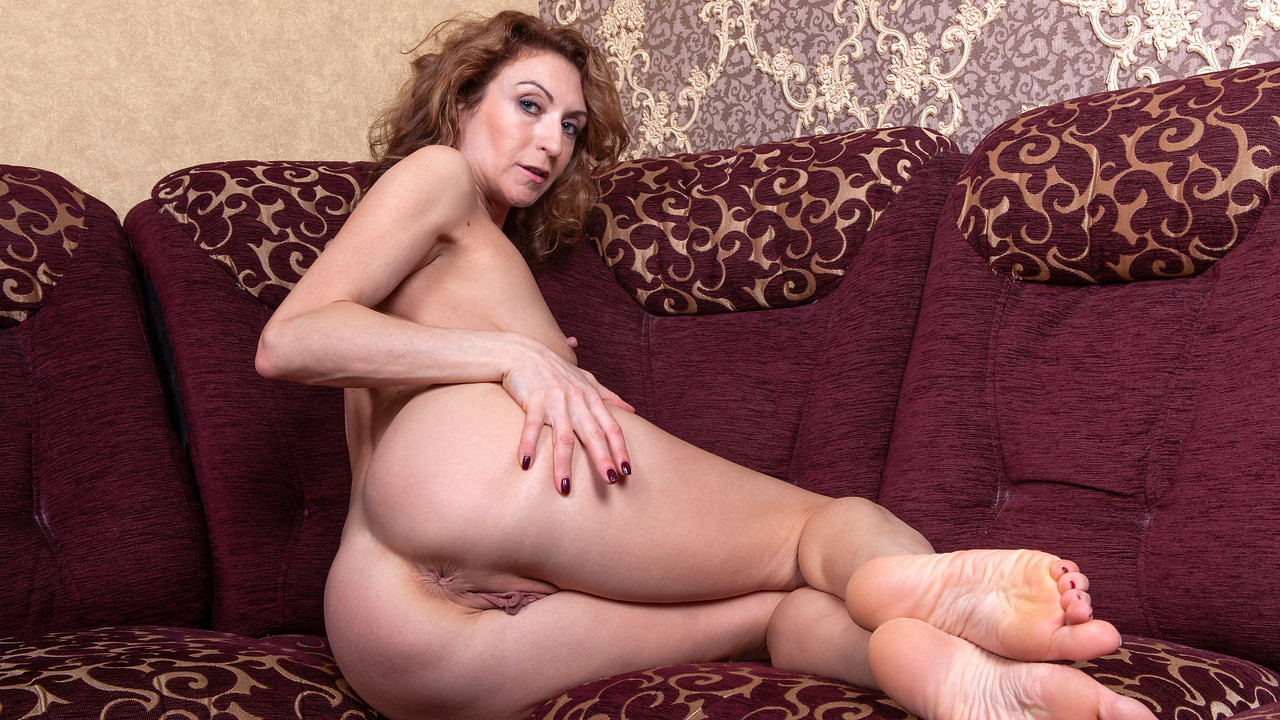 featuring Dafna May.
Added On:
Jan 31, 2021
Description:
What would you do to get a snap of Dafna May showing off her bald snatch in just some fishnet stockings? This hot housewife is always up for a good time as long as it means she gets to cum. Stripping slowly, she cups her breasts, thumbs her big nipples, and runs her fingers down her slit.
Cameron Skye: Busting Out & Banging at XL Girls
"For the most part, I'm pretty much a down-to-earth girl. Things that excite me are usually things that make me the center of attention."
So said Cameron Skye. She wants you to check out how she looks wearing her new sheer, white babydoll lingerie and invites you over to her place. Her sexy outfit is almost like something a girl would wear on her honeymoon or on vacation. It's just right for her. You'd be happy to make time for this horny doll.
You're waiting in her living room when she walks in. Impressed? One look at her statuesque, soft body is enough to produce an uncontrollable erection. Cameron likes making men horny for her. She has a cheerful and bouncy personality.
Cameron whets your appetite by showing you every naked inch of flesh as she lies back on her couch. She sees your package and seizes the moment, kneeling back to suck your dick hands-free, giving you plenty of hot eye contact. Your rod wedged firmly between her soft, full flesh pillows comes next. If you think you're going to fuck her tight, pierced gold-topped pussy after fucking her boobs, you're totally correct. She'll make sure she busts your nut.
Since the beginning, Cameron's been interested in seeing what kind of reactions she inspires on our comment boards. "I love checking out what people are saying about me. It's cool to get a good reaction and have people comment. It's awesome. I like getting on and seeing what my rankings are."
You're driving down the street on a beautiful, sunny day, SCORE dude. You turn to look to your left. Then…WOW! Great tits and ass alert! The hottest girl you've ever seen is strolling. She's wearing a tightie-whitie t-shirt, and tight, high-riding denim booty shorts. She's got that special walk all girls get when they wear skyscraper stripper heels. Then you recognize her! She's Alexis Silver, the British porn mega-star. You've jerked many a load out watching her suck and fuck.
You pull over to greet her. She comes over and you chat her up. She invites you over to her friend's place where she's staying and tells you she's got a butt plug in her ass to prepare her anus for a video tomorrow. "A lady in the streets and a freak in the sheets," Alexis points out. You get to the house where you enjoy a hot fuck with this vixen.
She's got energy, a dirty British mouth and an overflowing enthusiasm for sex; a woman who loves a no-strings afternoon of hot and heavy pussy and ass-banging. She strips naked, leaving the heels on, and starts by putting on a little show for you. Your eyes shift to the butt plug stretching out her asshole. In a few minutes, your swollen dick will take its rightful place in that ass.
She sucks your prick hard, playing with your balls with an underhand stroke, something many girls are not trained to do when they are first taught to eat cock. She gives you the deepest deep throat, not that bullshit head-sucking routine. Alexis slurps to the root. You bone her asshole in missionary and the tightness of her anus feels unbelievable as you bore in and out. It's a good thing you brought your camcorder because you can relive this unforgettable time with Alexis for years to cum.
Cameron Skye: Bikini Busting & Banging at XL Girls
The plan was for you to help Cameron Skye pick out a bikini to wear today. That doesn't go entirely to plan but works out even better. Cameron's swimsuits are placed on the couch. Looking super-sexy in her sheer baby doll nightie, a big smile on her face, she walks into the living room where you're waiting to see her try on those bikinis.
Feed your need to watch Cameron model her tiny swimsuits. The bodacious, cheerful blonde can see in your eyes that you need some hot, afternoon action. She kneels to give you a hands-free blow job with lots of eye contact that makes you as hard as a rock. Cameron has a pretty mouth and cock-sucking lips.
Squeezing your dick between her heavy tits, Cameron wants you to fuck them good. She stands to take off her bikini and spreads her legs wide so you can take possession of her golden-haired pussy and pound her the way you thought of pounding her when she was putting on her bikinis for you.
The harder you shove your cock into Cameron, the more she likes it and the more her big boobs jiggle and shake. When the pressure gets too high to hold back, she'll make you explode your load on her pretty face with her talented mouth and soft hands.
Charley Atwell Wants You To Wank For Her
"I love taking my bra off as soon as I get home," said Charley Atwell, British eye candy. "I wear sexy lingerie when I go out and sports bras at the gym or when I run so they aren't bouncing all over the place."
Charley is known for her JOI and hot body nude videos. She encourages jerking with saucy comments and horny hand signs and enjoys sexy chatting.
"I masturbate on a daily basis. I love to use my wand if I'm in a rush as it makes me orgasm quickly. If I have more time, I tease myself more and use my different toys as I have loads.
"I'm assertive in the bedroom. I'm very satisfied when a guy goes down on me whilst finger fucking me hard. That makes me squirt. I would love to try the pile driver position. It's always good to see if the guy likes to experiment. When I give a blow job, I swallow if I'm in a relationship. If not, then shoot it all over my tits."
featuring Dafna May.
Added On:
Jan 29, 2021
Description:
Do you like seeing Dafna May decked out in a sheer robe and white lingerie? This hot milf loved all the attention her tight figure earned her the first time around, so she couldn't wait to come back and show off her puffy nipples and sleek bald cunt just for you.
Mia Sweetheart: A Whole Lotta Boob Shakin' Going On
Mia Sweetheart knows how to dress her sexy and luscious body for maximum enjoyment, both hers and yours, and she loves to get totally naked. To start this show, she's picked out a hot pink number that clings to her curves like plastic wrap. After dressing her delectable body, twerking, boob shaking and toying soon follow. In the video, Mia teaches you how to talk to a girl in Romanian.
XLGirls: What's the best part of being a beautiful woman?
Mia: A girl can get away with a lot of things if she puts on an innocent puppy face, and a big cleavage always helps.
XLGirls: What's the best way to get on your good side?
Mia: Have a good sense of humor and beautiful eyes.
XLGirls: Is sex on the first date possible?
Mia: If I click well with the guy, yes, sex on the first date could happen. Why? Because life is too short not to enjoy the best things in life.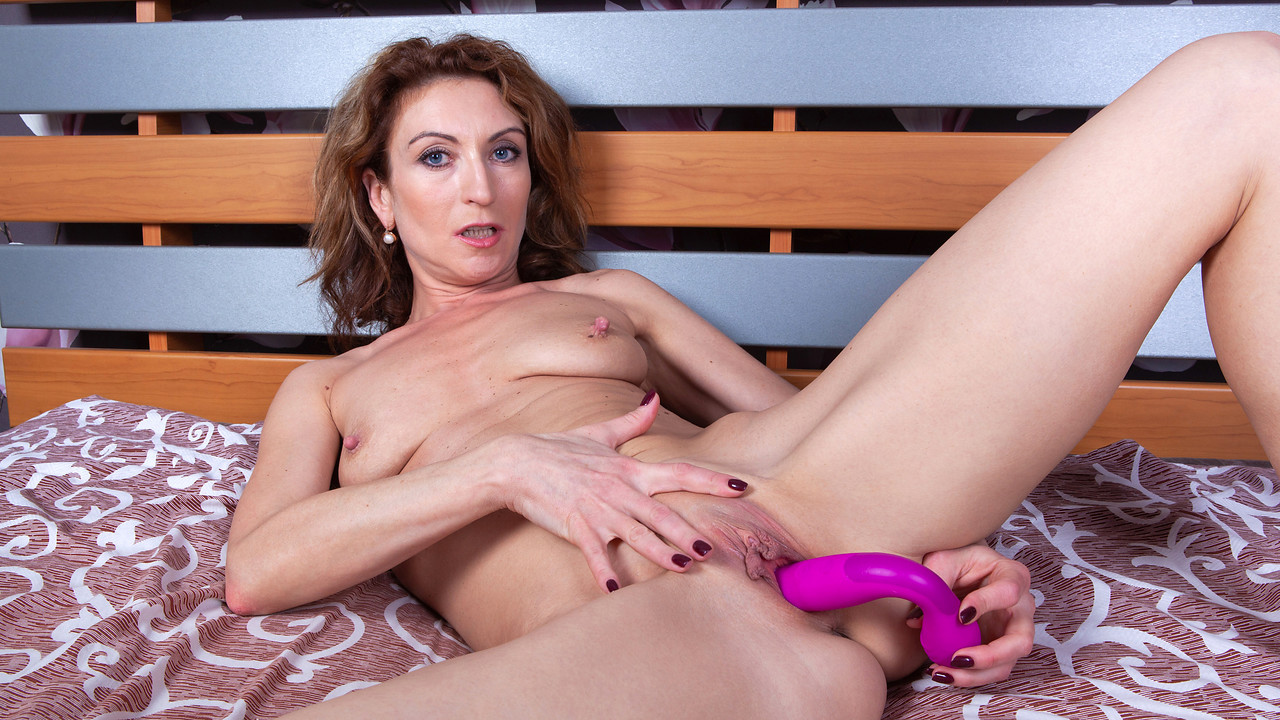 featuring Dafna May.
Added On:
Jan 27, 2021
Description:
We couldn't wait to bring stunning housewife Dafna May back. Dafna has returned with a little black dress and a need to make herself cum. Watch this hot mama disrobe as she shows off her firm titties and meaty bare twat on her way to a toy-fueled masturbation adventure.
Texan Billie Austin knows all about Southern hospitality. Her smile is genuine and warm as she invites us into her home.
"Welcome," she says, oozing bubbly Southern charm. "Come on in and see my home."
Who are we to say no to a girl who looks like Billie? Not with those curves, sexy tats and her 42H-cup tits pouring out of her over-matched purple tank top.
"I think I know why you're here," Billie says.
Billie boasts brains to go with her boobs and beauty.
"I think I'd like it if you watched me," she continues.
Billie slowly sheds her tank top and bra and begins to play with her boobs. She cups her left boob and sucks on her nipple, leaving behind a sexy lipstick ring on her areola. Soon, Billie is stroking her pussy while lustily groping her body and boobs, steadily pushing herself closer to an orgasm.
"Oh, I'm so wet," she moans after cumming. "That's just what I needed."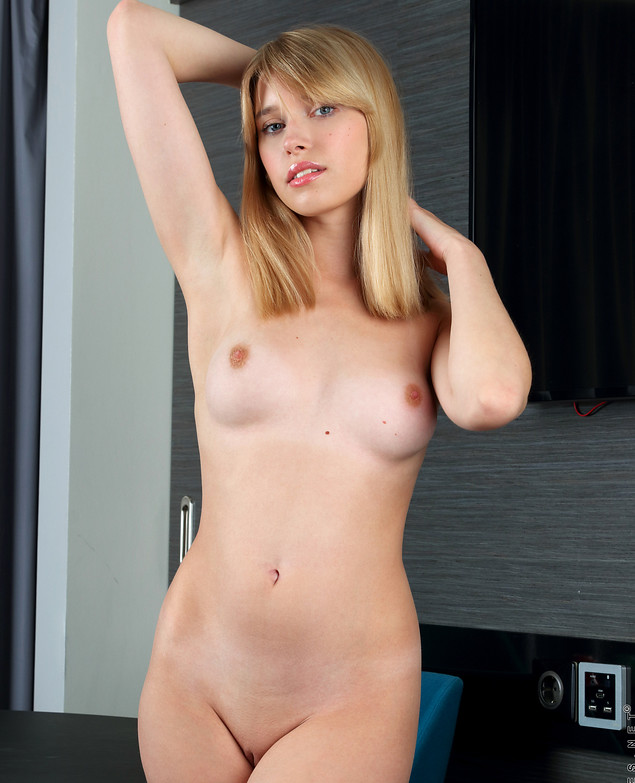 Added On:
Jan 26, 2021
Description:
Lovely blonde European Freya Mayer has every right to be proud of her lush curves. It's rare to meet a coed who's as into squeezing her breasts and thumbing her nipples as this hot-blooded young thing, so enjoy yourself as she explores her sensuality.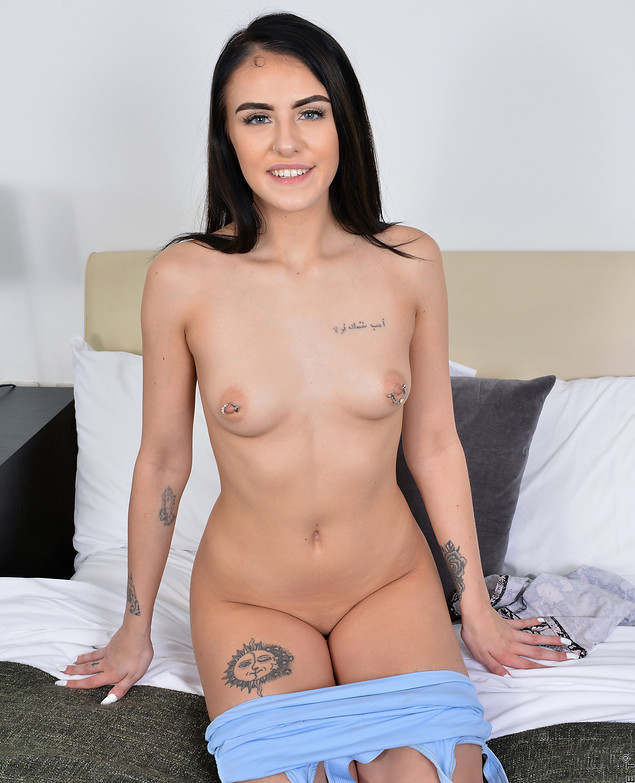 Added On:
Jan 26, 2021
Description:
Lusty teen Shay London is in a full on rebellion against her parents. She's gotten some fun new piercings and now she wants to show them off on camera. Tall, curvy, and very sure of herself, she's sexy, fresh, and eager to please.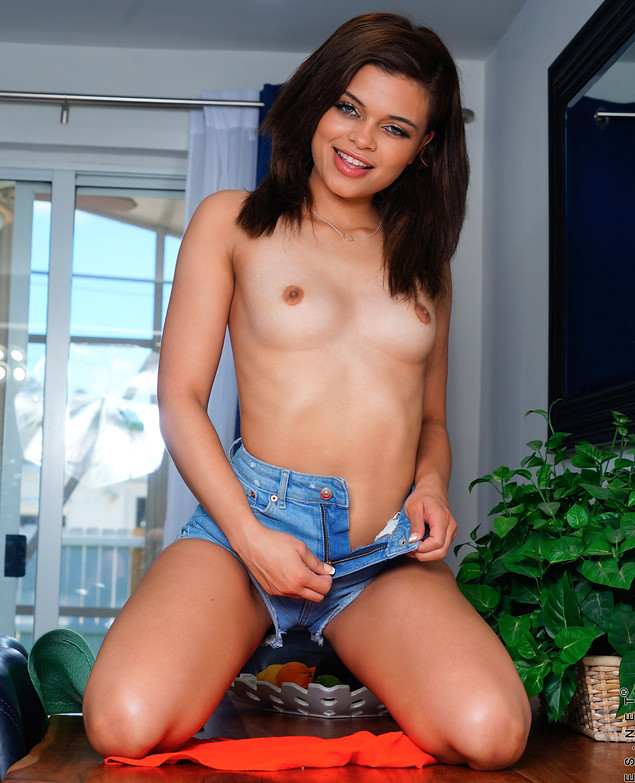 Added On:
Jan 26, 2021
Description:
Lovely brunette Destiny Cruz is one hell of a little package. She's a mouthy young thing who makes up for all the trouble she gets into by putting that mouth and certified nubile body to work. Watch this horny coed fuck her way out of trouble.