Monthly Archives:
October 2020
Martina: From Student to Porn Star
When the hardcore scenes of Martina arrived at the office from the Czech Republic, it took a few minutes to recognize her from two outstanding solo shoots she did years ago for SCORE.
One photo shoot was indoors, the other was a bikini shoot outdoors at a scenic location. After that, Martina seemed to drop out of the modeling pool. That's nothing unusual.
Martina changed her appearance since then. But the bigger surprise was her moving into hardcore scenes. She caught us with our pants down with that, even if it is years later. Steve already had his pants down, ready to ravish the now-blonde bra-buster, which he did in this frantic fuck fest.
Never say never, right?
Kitty Cute Loves Her Huge Boobs
The question is why a bra manufacturer catering to women with extremely large breasts hasn't asked Kitty Cute to model their bras. She's a perfect choice. Seeing Kitty model her brassieres in this scene convinces us. Her bras need to be strong and supportive but also sexy and feminine to pass her rigorous tests.
Kitty once said that finding the bras she wants to wear is difficult in her native Romania so she's always looking and asking her equally breast-blessed girlfriends for shopping tips.
"I always need to wear a bra," Kitty told us when she first debuted. Kitty didn't dress up for this scene. She begins in a tank top, bikini bottoms and heels and looks spectacular.
Award-winning exotic dancer Stephanie Stalls pulls out all the stops. Stephanie is a horny babe who knows what she likes and what she wants in bed. She wants Mr. Dick to first play with and massage her massive and heavy 40-inch, 34F-cups. She loves her nipples pulled and pinched. He spritzes a good amount of white cream over them, rubbing the stuff into her breast flesh until her tits shine. "Massage my pussy," Stephanie says. He goes one better, massaging her shaved cunt with his tongue. You may be wondering why the stunt-cock's face is often out of the frame. Here's why.
She returns the favor by sucking his cock, making popping, suction sounds as her mouth works it. "Fuck those titties," she next tells Mr. Dick, a living cock-prop who doesn't care if Stephanie's bossy. She sits on the edge of the bed holding her heavy breasts together as his prick plows through her tightly compressed boobs that make a kind of cleavage-pussy. Stephanie now wants his shaft in her snatch. She gets on her back, strips off her panties and opens her legs for a side-saddle fucking. Her head hangs over the corner of the mattress and she makes sex sounds in a staccato rhythm while he penetrates her with fast strokes. Her hands reach down to rub her clit and pussy-wings.
Stephanie gets on top and mounts him in a reverse cowgirl position, riding his pole hard. "Fuck it, fuck it, fuck it!" she cries, bouncing up and down, tits swinging wildly. Most girls have to take their heels off in this position but not Stephanie. Her stripper stage-skills give her fuck-stamina and flexible legs and ankles. The more she fucks the more fucking she wants.
Stephanie knows what she likes and what she wants. "I'm good at blow jobs. I was called Hoover in high school," Stephanie says. She can get aggressive when she's hot for the cock but will be submissive other times. She is usually aggressive in her sex scenes. We'll bet she quickly wears out most guys she meets. That's why she likes doing porn with pro-studs. Stephanie has only done hardcore at SCORE.
"Sometimes I want somebody to take charge and really hammer me in bed. Most guys just like laying back and getting a blow job." With her flexible limbs, trained and fit from her stage dances, Stephanie is qualified to handle any position.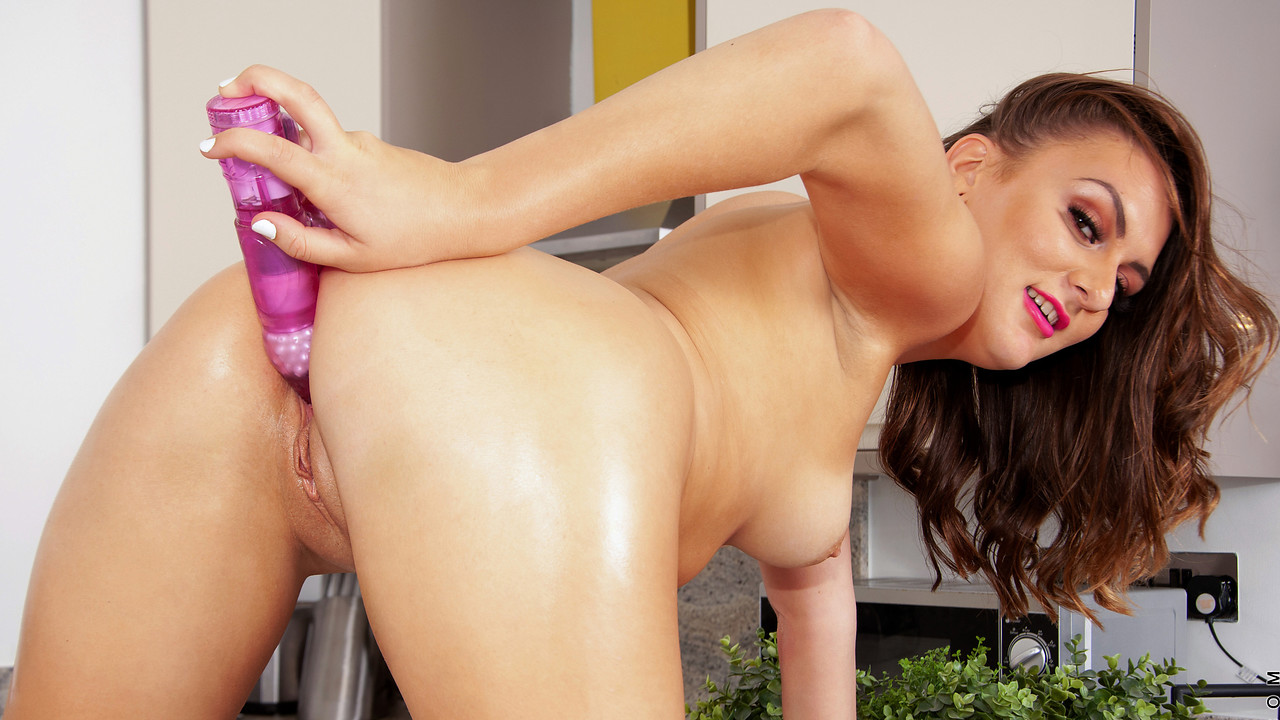 featuring Ella Brown.
Added On:
Oct 30, 2020
Description:
Luscious mom Ella Brown is looking lovely in her tight dress that shows off all her curves. The only thing better than this hottie in that dress is her taking it off! Watch her get naked in the kitchen and explore how her fingers and a Rabbit toy feel as they make magic in her dripping snatch.
Lovely and curvaceous Lola Paradise arrives home from work. "It's been a hard day," Lola says. She wants her night to be hard in a different way. "I need hard cock. I love hard cock. Hard cock between my boobies."
Lola peels off her curve-hugging dress to reveal her super-sexy, lush body and huge tits with their saucer-sized areolae. She is a living Venus, although Venus never had tits and ass this big and juicy. She parades a bit around the room, proud of what nature has gifted her. Lola wants to shower first. She soaps up and uses her showerhead, still talking about the cock she wants. After her shower, Lola lotions her boobs and body. After drying off, she puts on the black stockings she's bought for her after-work sex date.
Lola's man is waiting for her in bed. "I come for my cock," Lola says. She sure knows how to make an entrance. Her eyes light up as she sucks his dick and rubs it between her tits. Lola has the perfect breasts for tit-fucking. "Rubbing cock on my breasts makes me more horny. I think every man on this planet should try titty-fucking with a big-boobed girl."
Lowering her body on top of her man, Lola takes his cock and guides it into her tight pussy, tingling with excitement and pleasure. What Lola wants Lola gets, and what she wants is hard cock deep inside her. After thinking about it all day, her wish is finally granted.

September Reign & Vanessa Vega @ WeFuckBlackGirls.com
Charles is a total gear head, who is always fixing his motorcycle. He's so into his bike that he keeps it in the living room and works on it even when his Girlfriend, Vanessa has her hot girlfriend over. They try to get him to sit down with them but he's too busy with his bike. Even when they change into sluttly lingerie it's hard to get him to pay attention to them. This time Vanessa has a good idea…she sees he is looking at something on his bike with his inspection camera so she asks him to show them his new tool. She takes the camera to show off both of their boobs and pussies. Then she puts it under her dress to show off her buttplug, followed by having him watching her lick September's pussy while he checks that out too. That's when Charles hops in as well and they start fucking each other. Then he takes out the buttplug and has both Vanessa and September suck on it. This gets his undivided attention and and the craziness ensues, with tons of ATM, ATP, ATOGM ass to September Reign's Pussy, squirting and a creampie on Vanessa that drips out into September Reigns mouth!!!!


Visit WeFuckBlackGirls.com – The Complete Dogfart Interracial Sex Series @ We Fuck Black Girls | September Reign & Vanessa Vega
"I love anal," says Savana Blue. "I am working on doing a double-anal but I haven't gotten there yet." Double-anal? Most girls don't do anal at all.
Savana says she's had several hook-ups with other girls. "One of my favorites was with a 60-year-old woman. We had a double-sided dildo and were both sucking a cock while fucking each other."
"Big cocks using me however they want…that's what satisfies me most of all, says Savana, a cam-girl. One of the guys watching her cam cum-show recommended XL Girls and that was how she came to be here.
Angela White dropped a bombshell on the studio that launched her career, "I want to do hardcore."
In Angela's Bikini Bangeroo, the wonder from down-under dons a sexy string monokini and shows off her incredible bod at poolside in St. Maarten.
It's a wonder that Angela didn't turn the pool water into steam with her overheated body. This gorgeous Australian coed worships the big cock as only she can.
Angela accomplished her goals of becoming not only Australia's most-well known porn star but one of the stars of the international scene. And to think it all started with an 18-year-old teen writing a letter to SCORE and enclosing some photos in the envelope in 2003.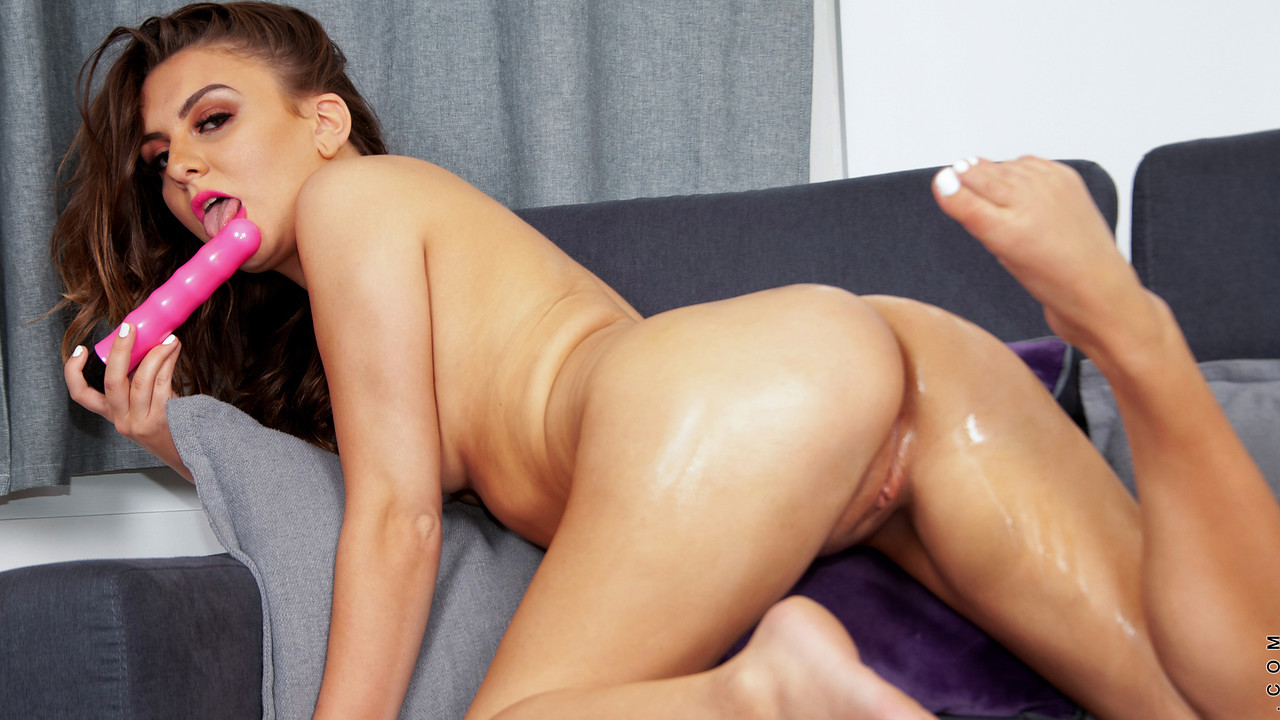 featuring Ella Brown.
Added On:
Oct 28, 2020
Description:
Dressed to kill, Ella Brown is only interested in one thing: getting out of her evening gown and thong and getting her hands all up in her own business. This lusty milf will do just that, getting naked and grabbing a vibrator to suck and then slide deep inside her cunt so she can ride it to orgasm.
Barbara Angel has a back ache, so she goes to a spa for a massage. Maybe that will give her some comfort. "Maybe it's because of my breasts," Barbara tells her masseur George, who can see that Miss Angel is packing some mighty big boobage in her bra. No problem. Big boobs are his specialty.
Barbara strips off and climbs onto the massage table. Her massage starts off routinely enough but quickly escalates to a mutual tonguing of pussy and cock, then oily fucking in a variety of horny tabletop positions. George and the Angel slam into each other hard and fast, screaming loudly when they cum. Barbara licks up the spilled cum off George and flashes a satisfied smile.
SCORE: Barbara, what do you remember about this massage?
Barbara: There was a lot of oil in this scene and it was very nice. George was good at sex. I enjoyed it. I like the different ideas in my shoots with the guys.
SCORE: Have you ever had a professional massage which led to sex?
Barbara: Professional massages no, but a few times the massages at home got sexy.
SCORE: Do you like this kind of role play on-camera?
Barbara: Yes, sure. At the beginning, it's fun and then you really play.
SCORE: Do you role play with a boyfriend at home?
Barbara: Yes, often. My favorite game is doctor and obedient patient.
Beautiful blonde bombshell Klaudia Kelly brings back Hollywood glamour-girl sexy and puts on a horny cam show with Bob, her battery-operated-boyfriend. The microphones pick up every squish-squish sound as Klaudia works her fingers, then that vibrating cock-toy, in and out of her wet and pink candy box.
Klaudia's sweet voice fills the room as she feels up her big boobs, kissing and tonguing her nipples and leaving red lipstick on her right areolae.
Sex, porn and eroticism are her life. "My sexual fantasy is to get gangbanged in public by more men than I can count for everyone to see. My idea of the perfect day would be a day that I can cum at least five or six times, depending on how many partners I have. I like being cummed on. I like getting my face blasted with jizz and then going about my everyday errands."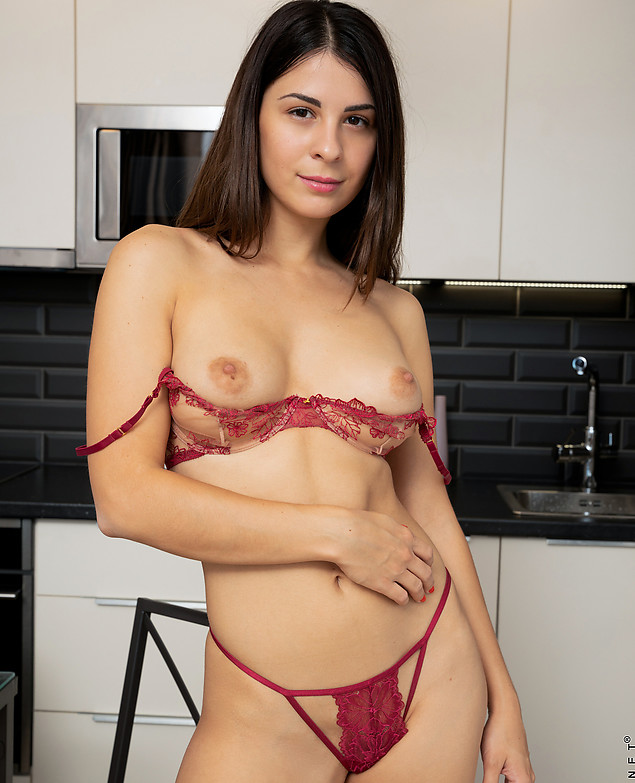 Added On:
Oct 27, 2020
Description:
Topmodel Alice has some amazing attributes, like her puffy pink nipples that really stand out from her big boobs or her lovely and creamy twat. She's excited to get naked on camera and so she can get horny indulging in her exhibitionist fantasies.